Chapter-by-Chapter Summary


Introduction: Co-author and long-ago Montague listener Bob Baker tells the story of how the book evolved.


Prologue: Magnificent Montague sets the stage.


1. The Hustle: Teenage wanderlust leads to WWII adventure.


2. The Groove: Montague finds himself on the mike for the first time, encounters his first "race man" and stumbles into a new land-Texas--that will change everything.


3. The Rhythm: In Texas, Montague gets an education about the South, borrows from radio preachers to start sounding hip, decides to court the ladies on the air, gets a visit from the Klan and finds himself smitten with one particular listener.


4. The Book: Montague sails into Chicago, builds a bigger audience, creates a smash do-wop group and puts his hand on a book of black dialect poetry that will turn him into a history addict.


5. The Movement: The story of how a San Francisco DJ wound up confronting a key villain of the civil-rights era on the other side of the country.


6. The Apple: Montague returns to New York on WWRL.


7. The Boy: Immersed in his history collection, Montague takes his first step toward sharing his hard-won knowledge of African American achievement.


8. The Man: Sam Cooke and his eternal hold on Montague's soul.


9. The Riot: Montague heads west to KGFJ in Los Angeles, takes over the town and finds himself at the center of controversy when rioting breaks out. Will he stop using his incendiary calling card on the air?


10. The Residue: The Watts Riots change Montague's show, and he heads for new music-business ventures--and Mexico.


11. The Climb: Ordinary folk, particularly black folk, do not build radio stations from the ground up. Montague tells the story of getting his hands dirty.


12. The Collection: Montague struggles to convert thousands of pieces of memorabilia into a black-history museum, and then takes you through it in his mind's eye.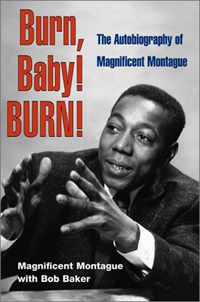 Order "Burn, Baby! Burn!"
from Amazon