About Magnificent Montague


Born in New Jersey in 1928, Magnificent Montague built a reputation for a fierce, unpredictable style of broadcasting that was enthralling and perfectly in synch with the soul music of his day.



Moving from Houston to Chicago to San Francisco to New York (to Chicago again) to Los Angeles, he personified independent radio of the '50s and '60s. Leaving day-to-day broadcasting in the early 1970s, he became a successful radio consultant and built his own station in Palm Springs in the '80s.


He has spent the past decade cataloging his massive, 6,000-piece collection of African American memorabilia.


Montague and his wife of 48 years, Rose, are the parents of a son, Martin. They live in Las Vegas.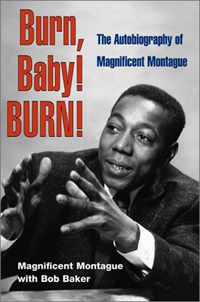 Order "Burn, Baby! Burn!"
from Amazon