Co-Author Bob Baker


Born in Los Angeles in 1947, Bob Baker grew up loving music and first tuned his radio to Montague's KGFJ show in late 1965. Twenty years later he tracked down the DJ for a Los Angeles Times article, and they eventually became writing partners.


Bob attended Cal State Northridge, spent seven years as a reporter and editor on a small newspaper and then joined the L.A. Times. He's been at the Times for the past 25 years as a reporter, editor and writing coach, and these days is an entertainment/popular-culture reporter.


He's also the author of a book on mental organization for journalists, "Newsthinking" (Allyn & Bacon, 2002) and the creator of newsthinking.com.


Bob has been married for 33 years to his wife, Marjorie. They're the parents of a daughter, Amanda. They live in Los Angeles.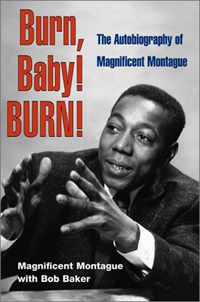 Order "Burn, Baby! Burn!"
from Amazon